To learn more about Invisalign® Aligners, or to set up an appointment with us here at El Paso Modern Dentistry, please give us a call today at (915) 221-7001
Invisalign® Aligners: The modern way to straighten teeth
Our office is a modern dental practice in more than just name. We at El Paso Modern Dentistry embody the latest and safest treatment alternatives that today's dental science and technology has to offer to our patients. Invisalign® represents just one of those many alternatives to "conventional" dental treatment. When planned and overseen by Dr. Enrique Darancou, Invisalign® aligners comfortably and effectively restore the appearance and health of El Paso, Texas, area patients' smiles.
Basics about this alternative to braces
Invisalign® has corrected crowded, crooked, unevenly spaced teeth and bite problems for more than 10 million people worldwide since it was first developed in the late 1990s. Instead of using fixed (non-removable) brackets, wires, and bands to reposition teeth, the Invisalign® system uses a series of oral appliances to incrementally bring teeth into alignment and to correct an underbite, overbite, and other imbalances with how the upper and lower teeth come together when you bite down.
These oral appliances (aligner trays) are made from a clear and smooth, BPA-free thermoplastic. So, they are comfortable, do not rub up against the inside of the mouth and tissues, and are transparent. No one notices them; they only notice your smile! Also, you can remove them every time you brush and floss your teeth or eat. This design feature supports effective oral care and comfortable eating.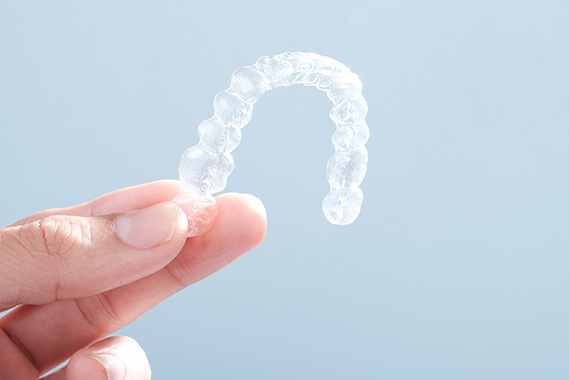 What to expect
Over time, Invisalign® has evolved. Originally, the aligners were primarily designed to correct more modest cosmetic issues. Today, many more patients are suitable candidates for orthodontic treatment with Invisalign®. It can even correct complex bite issues. For instance, Invisalign First® is designed to developing mouths among pediatric patients aged six to 10. Children, tweens, teens, and adults alike appreciate that Invisalign® aligner trays are easy to care for, easy to wear, gets results, and are discreet (no one sees the aligners in your mouth!).
As with other treatments, the Invisalign® process starts with a consultation at our office. Dr. Darancou uses specialized software to make a 3-D model of your mouth. During this consultation, he will pull up this simulation of your mouth and show (rather than tell) how the aligners reposition teeth. What better way to understand the dramatic impact that Invisalign® can have on your smile than to actually "see" the results beforehand? If you like what you see, this information will be used to make your aligner trays. It is a "must" that you wear the trays as instructed by your dentist. Only remove the aligners during meals or when cleaning your mouth. Each aligner should be worn for around one to two weeks. Then, you will wear the tray that corresponds with the next stage of treatment. So, it is important to wear them in the correct order. Dr. Darancou will check with you periodically to evaluate your progress and to provide you with the next sets of aligners.
Schedule your Invisalign® consultation today. Your stunning, healthy smile awaits!
FAQs